Our endeavor is to attract nice people who want to return to Badgee Park year after year.
We guarantee our prices are better than all others in Sussex Inlet for the same standard.
The amenities are kept clean to a very high standard. The showers are large and spacious.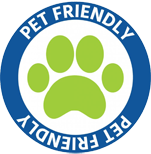 Badgee Park is pet friendly for small and well behaved dogs. Larger dogs may be allowed to stay according to management discretion to ensure the comfort of all park patrons.
Our large BBQ area is a favorite spot for a cool drink and friendly chat.
Click below for further detailed information about our accommodation options.